Your library in the cloud
Hosting
Economic hosting solutions on open-source, non-proprietary software based on established standards across a number of disciplines. Jump start your digital library presence today!
Services
We can work with you to support your own instance of SobekCM or to do custom development work that we will add to your local host or help you host locally.
Community
Join a growing community of users and build your own community!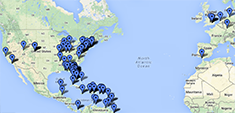 Resources
Connect with resources online to learn the system, see how to administer the site, and much more. These resources include technical documents, videos, and general help.
About Us
Learn more about our company, our management team, and our values.

News
Catch up on the latest news with the open-source software and our company.

Come meet us at an upcoming conference!

Let us be your cloud
Sobek Digital provides a single solution for universities, museums, archives, and other heritage organizations to support the discoverability and access to digital resources and facilitate the creation of digital scholarly works. We offer all the benefits of other hosting solutions, and more, in a single solution, at a fraction of the cost. In addition, the software used to host your content is open source, allowing you the flexibility to begin hosting your own material at any time. Our staff will assist you with initial setup and the design of your digital library, provide training, and maintain the latest version of the software. In addition, as resources and programming time becomes available, we will incorporate your additional needs and work to fulfill all requests. If immediate custom solutions are required, we can also dedicate developers to assist you with your development project.
Unrivaled file and metadata support
Sobek Digital can host any file type you like, and has built-in viewers for all standard resource types, from books, slides, and photographs to newspapers and electronic theses and dissertations. Multiple files of any type can be associated with any digital resource with no restrictions. If you want to upload a file type that does not have a built-in viewer, the file will be made available as a download link until a viewer is written. This flexibility, along with an innovative set of ways to hierarchically organize your resources, allows you complete control and customization of your user's experience.
In addition to excellent file type support, Sobek Digital offers the most comprehensive support for different metadata types of any hosted solution. While the system is natively built upon MARC library records and METS/MODS digital resource files, it can also support EAD's for archival collections, VRACore for visual resources, DarwinCore for taxonomic materials, GML for mapping, IEEE-LOM for learning objects, and much more. Need a custom metadata scheme supported? We can do that for you as well, since the system is very simple to extend to new schemas.
The Swiss army knife of repositories
By leveraging the excellent file and metadata support with the online submission and quality control process, Sobek Digital offers one solution that can house all your materials. Your site can function as your general digital repository, institutional repository, museum objects database, community-based project, learning object repository, or all of these at the same time. This allows your materials to be displayed in a number of contexts supporting all of your institutional needs. This will save your institution or organization both time and money.
Proven experience
Sobek Digital draws on the experience of hosting numerous instances supporting over 100 partners for the past seven years. This includes large collaborative projects and individual university, college, and museum instances totaling over 10 million pages of content. Let us bring our experience to your organization.
Google+